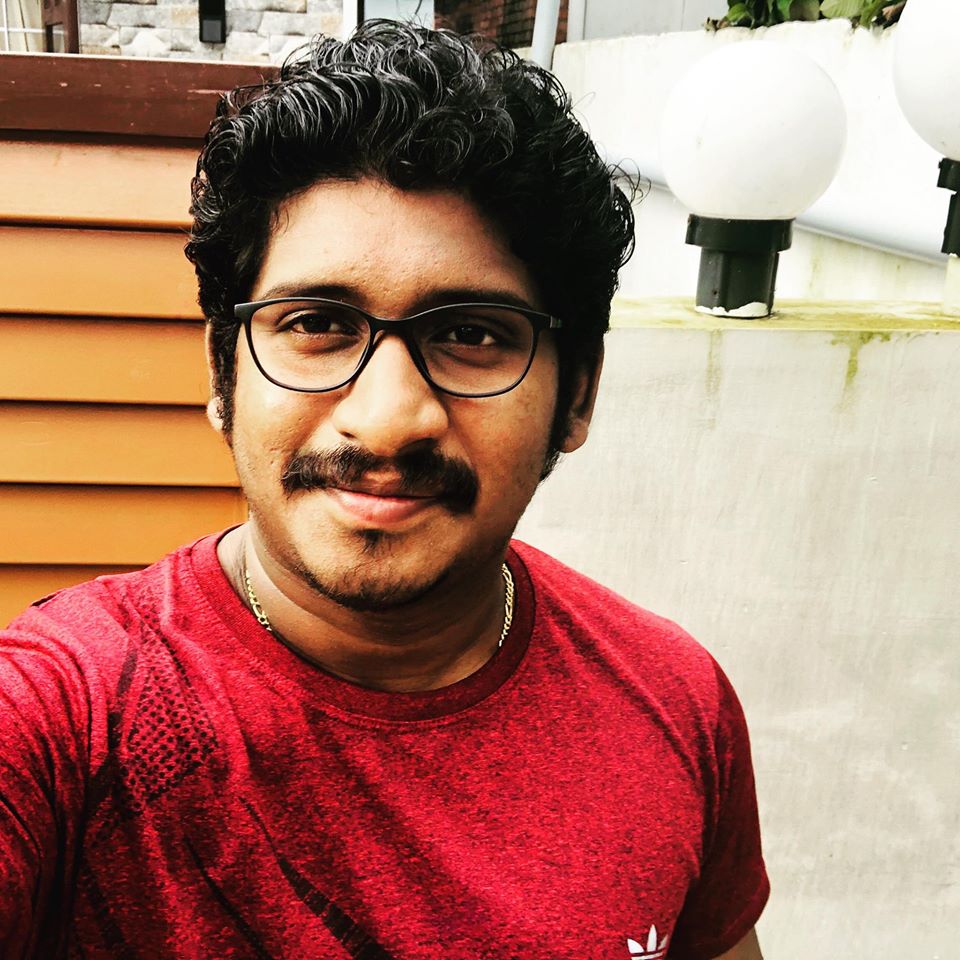 Assistant Professor,
Department of Computer Science,
Cochin University of Science and Technology
I'm a technology evangelist / educator / researcher having relevant experience in both academic and industry currently working as an Assistant Professor at Department of Computer Science, Cochin University of Science and Technology. The core area of interest includes different Artificial Intelligence and Data Science domains like Deep Learning,Computer Vision, Machine Learning, NLP , Data Mining, Soft Computing and also into Quantum Computing and Knowledge Graphs. I have cracked and qualified UGC NET / JRF, GATE exams several times. I'm Looking forward to excel in the field of technology research and development, which is going to transform the digital era
Department of Computer Science, CUSAT
Teaching students pursuing Masters in Technology specialized in Software
Engineering and Computer and Information Science
Carry out research activities.
| POSTDOC RESEARCH ASSOCIATE
Knowledge Media Institute, Open University
Work associated with project "Cultural Heritage Knowledge Graphs" funded
by EU Horizon 2020 Programme
DCA Cochin University of Science and Technology, CUSAT
Thesis : Computational Framework for Identification of Spatio-Temporal
Patterns in Classical Dance using Machine Learning Techniques.
Design Development and Deployment of Artificial Intelligence, Machine
Learning, Deep Learning and Data Science Project
Sacred Heart College, Thevara

Working as Asst. Professor in Computer Science Department. Teaching students doing Bachelor's degree in Computer Application specialization in Cloud Computing and Mobile Application Development
| SENIOR SOFTWARE ENGINEER
Travancore Analytics Inc., Athulya Infopark Kakkanad
I was working with C++ application development team. Involved in the analysis, designing, development, testing, and deployment phases of the project "REMO".
| SENIOR SOFTWARE ENGINEER
Techgentsia Software Technologies Pvt.Ltd ,Infopark Cherthala
I was working in the C++ application development team of Techgentsia Software Solutions for developing Windows Client Applications. Scope of work includes designing developing C++ applications and customizing Fire breath Plugins for video conferencing and other collaboration tools.
Computational Dance Analytics 

Experience with Multi-GPU environments : 10 X GPU based high performance work stations

Image and Video Processing, Computer Vision, Computer Graphics

Deep Learning – CNN, RNN, LSTM, Semantic Segmentation, Localization, Auto Encoders and other functional models

Machine Learning – Support Vector Machine, Neural Networks, Probabilistic Model, KNN, Random Forest, K-Means

Big Data Processing with Hadoop, Spark, Kafka

Experience with high performance hadoop cluster : Cluster Supports Hortonworks Data platform, HDP 3.0

Computational Linguistics, Data and Text Mining, NLP

Soft Computing – Genetic Algorithm, Swarm Intelligence, Fuzzy Logic

Data Structures, Algorithms and Theory of Computation

Discrete mathematics, Number Theory, Graph Theory, Calculus and Linear Algebra
AI/ML and DataScience Frameworks
Web Application Frameworks
Programming Languages and Scripts
Project and Code Management
Computer & Information Science
Computer Science and Engineering
The design and development in the field of usable security have not considered people with disabilities. To carry out transactions like banking, people with vision impairment are facing a lot of challenges as they do not have a dedicated system to assist them. This study proposes a voice-assisted obtuse ATM designed specifically for blind people. The proposal put forward a two-layer authentication mechanism that prevents several types of security breaches. Numerical values assigned by the user for a set of audio clips along with a random generated secret expression is kept as the security credentials. These credentials are encrypted using fully homomorphic encryption and saved in the authentication server which prevents server attacks. Using this method, a user is able to generate a session password for each login to access this ATM. For enhancing the security as well as usability a gadget device is also developed.
Five-day FDP on "

Machine Learning using Python

"
conducted by the PG Department of Computer
Science of Kristu Jyothi College, Changanaserry
A talk on the third day of "

One Week International FDP on Advanced Research Quality Publication

" Hosted by Federal Institute of Science
and Technology (FISAT)
A three-day hands-on online workshop on Unravelling Text for Insights through Analytics conducted by School of Management Studies, Cochin
University of Science and Technology
Mentors Talk on Bridging Data Science and Machine Learning : Thoughts and Realities, as a part
of Medha'22 at Cochin University of Science and
Technology
A three-day workshop titled PRE-UNIVERSITY
CAPACITY BUILDING WORKSHOP ON ARTIFICIAL INTELLIGENCE was organized by IEEE
Kerala Section Educational Activities Standing
Committee & IEEE STEM Portal
 Judging committee member of Seminar Competition on the theme AI and Society, conducted
by Department of Computer Science of SACRED
HEART COLLEGE, KOCHI
∙ Five day FDP on Machine Learning and Deep
Learning using Python conducted by the PG Department of Computer Science of Saintgits College of Applied Science
A talk on Lets Explore Computer Science-Cheif
Guest of the Inagural Ceremony of LANCE , Association of Computer Science and Engineering
Department of College of Engineering ,Kidangoor
Judging committee member of '

Strishti App Innovation Challenge

' conducted by DDUKK CUSAT.
∙ Hands-on session on Exploring Images for Analysis – Jain University
Talk on Unravelling Machine Learning – University of Stirling
 Workshop on Building Generative Deep Learning Models – Saintgits College of Engineering
Keynote address on Machine learning for Bigdata as a part of National Conference on Computational Social Science – MES College Marampally
A short-term course on Exploring Machine learning for Data Analytics using Python – Amrita School of Arts and Science
Talk on Machine Learning and Biological Data Analytics as part of FDP titled Computational Biology and Bio Informatics – NCAAH, CUSAT
Three day Online hands-on workshop on Python
Programming – St.Joseph College, Kannur
Webinar on session "

Machine Learning : Transforming Digital World

" – Marthoma College of
Science and Technology, Ayur, Kollam
Five day workshop on Data Science using Python
– RGNIYD and CUSAT
Two day workshop on Python Programming – RIT Kottayam
Two day workshop on BIG DATA : HANDS-ON
EXPERIENCE – DDUKK, CUSAT
DST PURSE – II Sponsored Workshop on Big Data
Concepts, Tools and Techniques – DCS CUSAT
Three day hands-on workshop on "

Deep Learning with Python

"- MG University Kottayam
Two day workshop on Machine Learning using Python – Mangalam College of Engineering, Kottayam 
AICTE-ATAL sponsored 5-day Faculty Development Programme (FDP) on "

AI enabled IoT Networks

" – Adi Shankara Institute of Engineering and Technology, Kalady
International Webinar on A Kick Start to Data
And Business Analytics – MES College, ALUVA
Three day Workshop on Deep Learning for trainers– Saintgits College of Engineering, Kottayam
Workshop on Bigdata Analytics Using Spark –
DDUK, CUSAT
Workshop on Introduction to Latex using Overleaf – Providence College of Engineering
Webinar on Data and Business Analytics – BIZ'
Talkathon 1.1. IMT Punnapra
Webinar on Unravelling Machine Learning – Geek
Talkathon 1.1. CEM Punnapra
Two Day online Hands-on Workshop on Python
Programming – M.I.R.O.S.I
Five Day online Hands-on Workshop on Python
for Data Science – St. Theresas College , Ernakulam
Two Day online Hands-onWorkshop on Machine
Learning – CUSAT Students Union, CUSAT, Kalamaserry
Webinar on Introduction to Machine Learning –
University Institute of Technology , Alappuzha
Three day national workshop on Python and Latex – Sree Shankara College, Kalady
Faculty Development Programme on Research
Methodology in Computer Science for – Naipunaya
School of Management, Cherthala
Five day Online Faculty Development Programme
on Image processing and Computer Vision for
College of Engineering Kidangoor- SITTTR Kalamasery
Five Day online Hands-on Workshop on Machine
Learning using Python. – Govt Engineering College, Idukki
Webinar on "

Deep Dive into Machine Learning

"
as a part for Faculty Development Programme –
conducted by Division of Information Technology – School of Engineering , Cochin University
of Science and Technology
Invited talk on "Data and Bussiness Analytics :Explore Concepts, research, and Opportunities " – NMSM Govt College, Kalpetta
Talk on "A kick sart to data and bussiness analytics" at International Webinar on "Data Science", MES T.O Abdulla Memorial College Kunnukara,Aluva
Faculty Development program on AI Enabled IoT Networks – Adi Shankara Institute of Engineering and Technology, Kalady, Kerala.
Three day Workshop on Deep Learning for trainers– Saintgits College of Engineering, Kottayam
Workshop on Bigdata Analytics Using Spark –DDUK CUSAT
One-day workshop on Introduction to Latex us-
ing Overleaf – Providence College of Engineering
Webinar on Data and Business Analytics – BIZ' Talkathon 1.1. IMT Punnapra
Webinar on Unravelling Machine Learning – Geek Talkathon 1.1. CEM Punnapra
Talk on Webinar session "

Machine Learning : Transforming DigitalWorld

" – CHMKM Government Arts and Science College, Tanur, Malapuram
Talk on Webinar session "

Robotics in Daily Life

" – THE Indian Community School, Kuwait
Five day Onl ine hands-on workshop on "

Machine Learning using Python

" – Division of Information Technology – School of Engineering , Cochin University of Science and Technology
Five- day workshop on Deep Learning – DCA CUSAT
One day hands-on workshop on "

Introduction to Machine Learning

" – Vimala College, Thrissur
Three day hands-on workshop on "Basic Machine Learning" – College of Engineering, Thrikaripur
Three day corporate training on "

Machine Learning and Deep Learning for Computer Vision and Image Processing

" for Software Developers at Indocosmo Systems Pvt. Ltd.
Two-day Hands-on Workshop on 

Practical Machine Learning using Python

. – Sacred Heart College, Thevara
Two-day workshop on OpenGL – College of Engineering, Cherthala
∙International Workshop on Machine Learning Applications – SJCET Pala
Five day Online Faculty Development Programme
on Machine Learning for Polytechnic Faculties –
SITTTR Kalamasery
Five day Online National Webinar on 

Python




Programming

 – Mary Matha Arts and Science
College, Mananthavady, Wayanad
Webinar on session "

Machine Learning : Transforming Digital World

" – CHMKM Government
Arts and Science College, Tanur, Malapuram
Webinar on 

Introduction to Machine Learning

 University Institute of Technology , Alappuzha
Three day 

National Workshop on Python and Latex

 – Sree Shankara College, Kalady
 Faculty Development Programme on

 Research Methodology in Computer Science

 for – Naipunaya
School of Management, Cherthala
Five day Online Faculty Development Programme
on 

Image processing and Computer Vision

 for
College of Engineering Kidangoor
Five Day online 

Hands-on Workshop on Machine




Learning using Python

. – Govt Engineering College, Idukki
International Workshop on Machine Learning Applications – SJCET Pala
Five day 

Online National Webinar on Python Programming

 – Mary Matha Arts and ScienceCollege, Mananthavady, Wayanad
Three day 

Online hands-on workshop on Python Programming –

 St.Joseph College, Kannur
Talk on "

Deep Dive into Machine Learning

" as a part forFaculty Development Programme – conducted by Division of IT – SOE, CUSAT
One-day workshop on 

Deep learning

 – College of Engineering, Aranmula
One-day Hands-onWorkshop on 

Machine Learning using Python

 – College of Engineering and Management, Punnapra
Two-day Hands-on 

Workshop on Machine Learning using Python

. – College of Engineering Aranmula 
One-day workshop on 

Introduction to Latex using ShareLatex

 – Sacred Heart College, Thevara 
One- day Android Workshop on 

Introduction to Android Programming

 – Ridgecone Technologies
Five-day workshop on 

Java Application Development

 – College of Engineering, Cherthala 
 One day session on 

Introduction to Machine Learning & Artificial Intelligence

 as a part of 

Year of Cyber Policing 

conducted by 

Kerala Police Academy

Two-day Workshop on 

Practical Machine Learning

 – Computer Application Department, CUSAT
One day session on 

Introduction to Machine Learning & Artificial Intelligence 

 as a part of 'Year of Cyber Policing' conducted by 

Kerala Police Academy

Two-day Hands-on 

Workshop on Machine Learning using Python

. – FOSS CELL, Govt Engineering College, Idukki
CONFERENCES - CHAIR/REVIEWER